---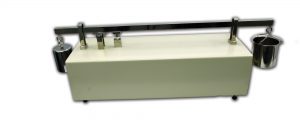 Constant Loading Beam Device, consists of a Three Pin Fixture specially designed for testing the green strength of compact metal specimens. The constant Loading Beam device does uses metal shot load. This device is specifically used for green compacts only.
How it is used :
1. Green Compact Specimen of Metal Powder to be tested is made using a Hydraulic Press with Floating type Die (with upper and lower punch) with fixture for formation of a Standard Rectangular compact.
2. The test specimen's dimensions and density are determined. The load necessary to fracture the Compact Specimen is determined by applying a uniformly increasing force by dropping the metal shot load.
3. Green strength of the material under test is determined by calculation using the equation for a simple supported beam with a concentrated load.
Testing the green strength of a compacted metal powder is very useful, in order to relate the resistance of a pressed compact to breakage or damage due to handling, also as a means of quality comparison of metal powder, batch to batch, and for determining the effect of additions of various ingredients to a base powder.