---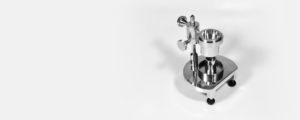 Halls Flow Meter is used to determine both Flow Rate and Apparent Density of any free flowing powder. It can be used for both free-flowing metallic and non-metallic powder.
Halls Flow Meter consists of a Funnel and Density Cup. Funnel helps in determining the flow rate and the Cup helps is determining the Apparent Density and also for holding the flowing powder
Our Halls Flow Meter is completely made out of SS-304, i.e Funnel, Density Cup, even the whole Stand all are made of SS-304 for longer life.
SPECIFICATIONS
– Funnel with Orifice (Hole Diameter): 2.5 mm
– Density Cup with volume: 25cm³
– Over Flow Plate
– Stand to hold the Funnel and Cup
– Spatula
– Feeder Spoon.
In case your powder is very fine and not Free Flowing, we offer a Carney Funnel with diameter: 5.0 mm to calculate the flowrate of the Non-Free Flowing Powders.